Here in Seattle, we love our coffee. However, you can be a tea-only drinker and enjoy an abundant tea culture here too. Growing up , I preferred rich Earl Greys and fruity berry tisanes over the bitterness of the bean. But gosh-darnit if this city didn't convert me. I moved here from Texas in 2006 and eased my way over several years into a now-daily routine of coffee. What started as a little poor-quality coffee with a lot of milk and 1 Splenda has graduated into robust, organic, and fair-trade roasts with soy creamer and agave syrup.
Blame it on the rain, blame it on the nearly year-round chilly temperatures, or blame it on my craving a more full-bodied flavor on my palate to comfort any stresses. Not to mention the caffeine kick to combat some lack of sleep. I am cautious to enjoy only decaf or half-caf to avoid the jitters and insomnia. One of these days, the coffee scene here will accept decaf as the same as coffee and have it more readily-available. For the record, Mr. or Ms. Barista, a decaf Americano is not decaf drip.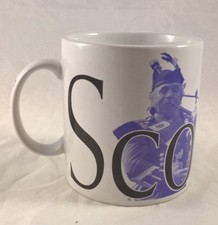 Here is my favorite mug to savor warmth and deliciousness. It is the recognizable large format from Starbucks but from an old series of designs. I purchased this while studying for a semester in Edinburgh in 2000, celebrating my Scottish roots and mug after mug of the British tea culture. It brings nostalgia for my experiences abroad and the Scottish spirit of hospitality.
Which brings me to the point of this post. I would love to see your mug shot and some breve sentences as to why it is your favorite. Please email me by Friday, May 31st with your picture and coffee/tea story for a chance to win a $25 gift card to a coffee shop of your choice. The winning entry will be chosen and notified within a week.
Thanks a latte for humoring my coffee journey story (bad puns too). I look forward to seeing your entries!
"If this is coffee, please bring me some tea; but if this is tea, please bring me some coffee."