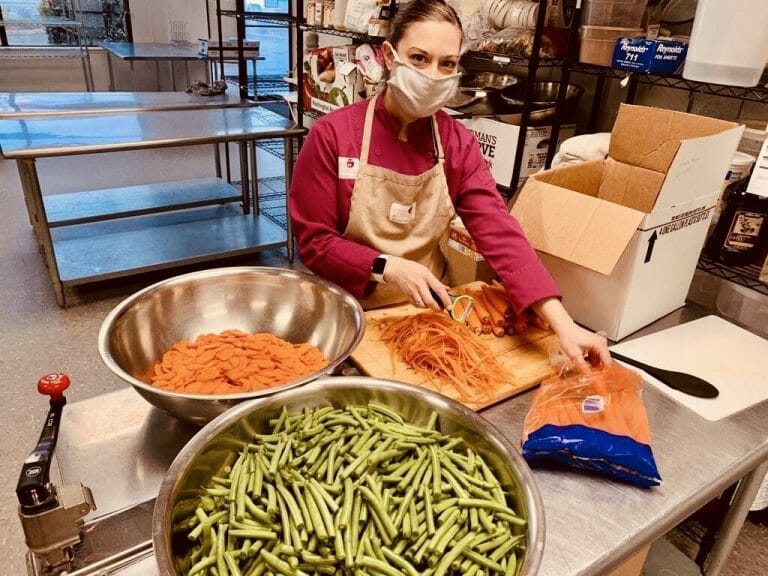 Our frontline medical workers are truly the heroes of the Covid-19 pandemic. They work tirelessly, putting themselves at risk each day, struggling to save lives from a disease we still know so little about. Those of us not on the frontlines are often left with a feeling of wanting to help, but not knowing how. At Honest to Goodness, we knew we could put our talents to work to make a difference, so we started to brainstorm.
What would help our frontliners the most during this incredibly challenging time? Well, we know the power of nutritious, high quality food, from increased energy levels and bolstered immunity, to elevated mood and increased focus. But when folks are stressed and overworked, they understandably turn to quick, processed foods, and this can take a toll on their health. As personal chefs, this is when our busy clients often ask us to step in and help, and we knew we could do this on a larger scale. Thus, our "Cooks for a Cause" fundraiser was born.
The goal? In one day, we would cook 200 tasty, nutritious meals and deliver them to the amazing medical workers at Swedish Medical Center Ballard. We were thrilled at how it all came together! Our chefs enthusiastically offered to donate their time, and Seattle Commissary Kitchen kindly offered their commercial kitchen space, free of charge. Donations from our amazingly generous clients and followers covered food, packaging, and rental of our refrigerated truck. We set the date – Wednesday, June 10th. The menu would be a delicious lemongrass chicken stir fry with vegetables and jasmine rice, and for 20 percent of the meals, we would offer a vegetarian option with tofu.
On the day of the cook-off, our team arrived in shifts. Chef Marizel arrived first in the early morning. She acted as our team lead, and had created the menu, the prep list, and the plan for the day. Right away, Marizel got us organized, unloading supplies, and setting up our work area. Next, Chef Ariana and Chef Laura arrived, to help with prepping and getting the cooking underway, followed by Shannon, who began portioning food into containers, assembling all the components of the dish. Chefs Stacey, Ruben and Chanda arrived midday to continue with assembly and packaging. Finally, it was time to transfer everything to coolers and load up our refrigerated truck. Once we were loaded up, Chef Laura, Shannon, and Chef Ruben were excited to make the delivery. 
Upon arrival at the hospital, with the help of some of the Swedish staff, we unloaded the meals to be delivered to the workers. Later that day, we were thrilled to hear from the coordinator of the hospital that everyone loved the food and so appreciated our gesture. It was incredibly fulfilling to hear how we had brightened the day for so many.
At Honest to Goodness, we will never forget this wonderful "Cooks for a Cause" experience, working together as a team to make a difference in the lives of those who face this pandemic head-on each day. We are so grateful to everyone who helped make this happen – thank you all from the bottom of our hearts! And thank you, health care heroes!!