Congratulations to all the couples finally celebrating their special day in this 2021 wedding season. When it comes to wedding food, most couples think of hiring a traditional catering company. While many personal chefs aren't specifically caterers, our team at Honest to Goodness is very experienced in preparing appetizers,  dinners, and more for intimate wedding gatherings at your home or other venues. When you hire Honest to Goodness for your wedding event in the greater Seattle area, you will enjoy a personalized experience to celebrate you and your partner, and impress your guests!
So, what's the difference between hiring a personal chef for a wedding event vs a caterer? When you hire a caterer, food is made in a commercial kitchen that you can't see. You don't know who is making your food and you don't know the cleanliness of the facility. Depending on the size of your group, oftentimes elements of catered food are prepped up to a few days before the event. And then your food must be transported safely to your venue in a time-and-temperature sensitive manner. A personal chef works in your home or venue's kitchen to make your meal super fresh right in front of you and your guests. It can also be a fun opportunity for your guests to engage with and learn from your chef.
Just like a traditional caterer, Honest to Goodness can coordinate with your Seattle wedding planner to make sure we integrate seamlessly with the plans and schedules for your big day(s). We also think of the little details that make wedding events flow, like ensuring that the wedding couple has plates of their favorite food sent to them first. Then they can focus on their guests throughout the event. We'll even bring them seconds too! Honest to Goodness also works with other vendors like print shops for your menu cards, florists, photographers, and more!
More than Your Wedding Dinner
From intimate home gatherings of less than 10 people to larger events with 100+ guests, we have experience serving all types of gatherings! In addition to "the main event", Honest to Goodness personal chefs excel at preparing food for a variety of wedding events, including your:
Engagement Party
Bridal Shower
Bachelor & Bachelorette Party
Rehearsal Dinner
Post-Wedding Brunch
and don't forget the Baby Shower!!
If you or your friends and family are planning during this 2021 wedding season, contact Honest to Goodness to discuss the most personalized approach to your in-home catering. Aside from the dress, your guests will remember the food the most!
"My husband and I hired Honest to Goodness for our backyard wedding for 10 people. We planned our event amidst COVID restrictions and Shannon and her team were so responsive and accommodating to our changes. The service was above and beyond. On the day of the event, our chef was so efficient and we felt very safe and comfortable as he was very compliant and up to speed on all COVID safety measures. The food was delicious. I would absolutely hire Honest to Goodness for my next event."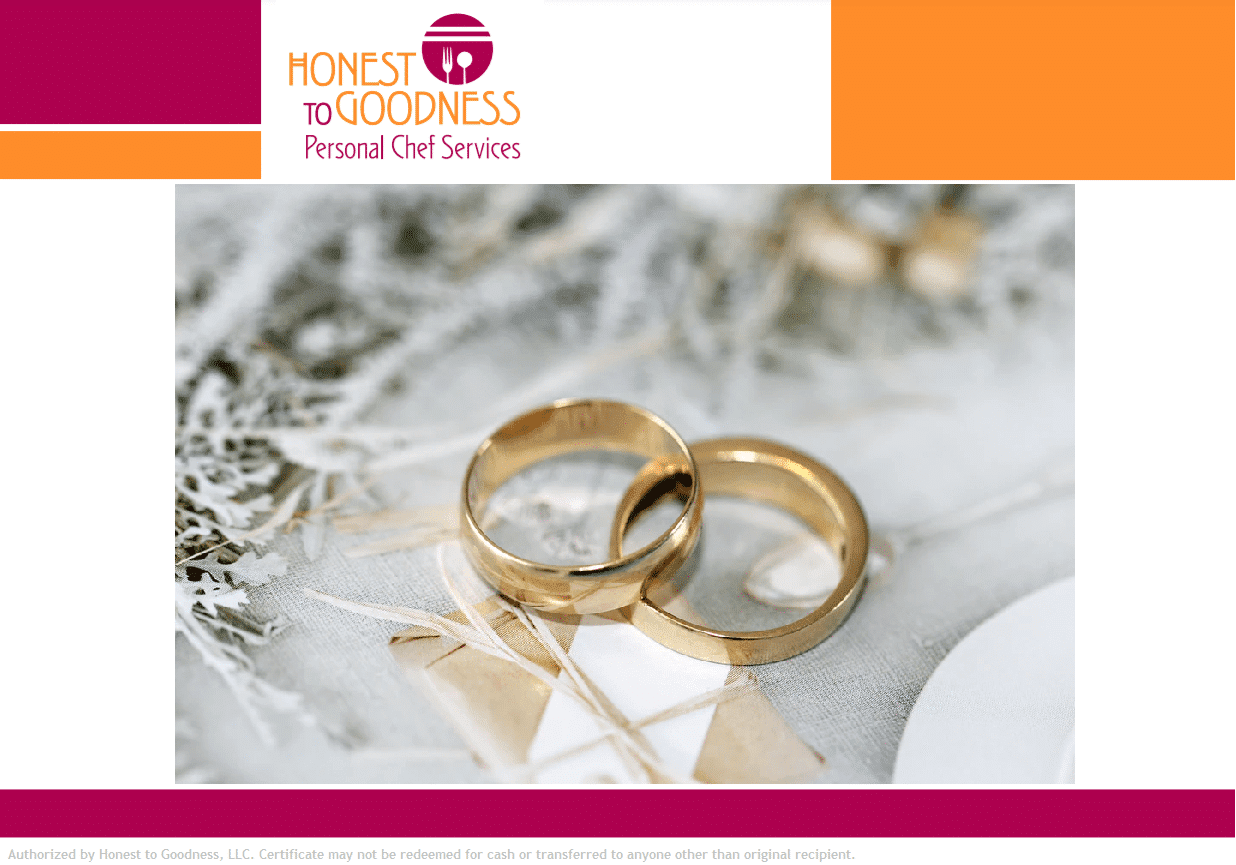 Give the gift of delicious food to your favorite couple! Gift certificates start at $300 and can be used for freshly-prepared dinners, home entertaining, and even kitchen organization services.