Ever wonder what a personal chef does every day, besides the actual cooking of someone's food? Laura Taylor is a Certified Personal Chef and the owner of Honest to Goodness Personal Chef Services based in Seattle, WA. She shares her insights into what does and can happen on a typical workday as she serves her clients.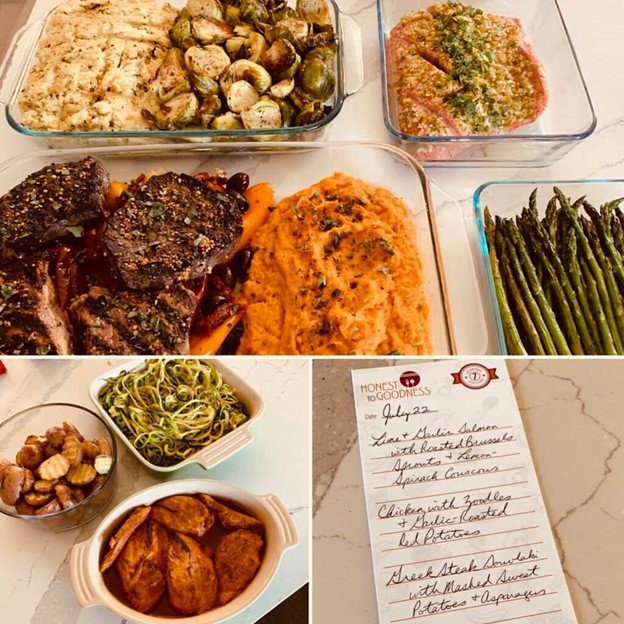 7:00am My phone alarm goes off, fortunately an easy and gentle tune called Early Riser. What my phone doesn't know is that I've already been up 3 times in the middle of the night taking my senior dog out for potty when he cries, lurching out of bed when I hear him retching to throw up, and then again when he whines to have snuggles in my bed. Snooze button. Ah, 9 more minutes to try to hide out in the last dream I was having. More realistically though, my brain is already processing my schedule for the day and my anxiety over needing to find the veal that I promised on my client's menu.
7:15-8:30am Shower, brush teeth, coffee, scroll through my Facebook feed, glance at emails and delete the immediate junk ones. More coffee please. My boyfriend has already started his workday in the home office. We check in and alternately focus on taking the dog out, feeding him, reviewing our respective schedules, and talking about what's for dinner. Recently, we've implemented a rotation where my boyfriend cooks on Mondays and Thursdays, I have Tuesdays and Wednesdays, and the weekend is for leftovers, cooking together, or eating out. This is working out well so far.
8:30-9:30am I head into my home office to respond to priority emails and get a pulse on what is happening with my team based on any communication from them. As the CEO of my company, I am grateful to have a dynamic Director of Operations as my right-hand to manage so much of the day-to-day sales, customer relations, chef relations, and scheduling logistics. Hey, here's a new inquiry that was emailed directly to me. I think I'll forward that to Shannon to handle because I still need to source some veal.
I look up the specialty grocery stores near where I live and where my client lives. "Hi, may I speak to your meat department please?" and "Good morning, do you have any veal in stock, either cutlets or chops? No, ok, thanks for your time and have a great day." Next. Now, I turn to calling butchers in the area. After calling 3 reputable places to no avail, I find a butcher just slightly out of the way of my commute that has what I need. "Great! Thank you so much, I'll be there in an hour." Relief!
Time to Hit the Road
9:30am-11:00am Chef coat on, hair tied up, and menu notebook in hand, I hit the road for my commute. I've reverse-engineered the timing and checked my phone maps to make sure I can stop by both the butcher and the grocery store to get everything I need for today's menu while arriving on time at my client's house. I use my 45-minute commute to flip through Sirius XM channels and land on a comedy station for some morning laughs. The butcher place is cool and friendly, and we exchange professional courtesies plus my business card to tell them about what I do. Beautifully sliced and packaged veal in hand and a receipt for $51.19. Yikes! Note to self: no more veal on menus unless the client specifically requests it. Grocery prices have definitely gone up this year. If I hadn't found the veal this morning, I would have amended the dish to have beef or chicken instead for the Milanese preparation, along with my apologies for not being able to deliver exactly what was planned and approved.
11:00am-3:00pm Upon arrival to my client's home, I let myself in and head straight to the kitchen. I place my grocery bags and toolkit on the counter and survey the environment. Is the sink full of dishes? Do I need to unload the dishwasher first? Is there any prepared food leftover from my previous service?
After unpacking my ingredients, washing the produce, and gathering ingredients that the client already has in the pantry, fridge, and freezer, I grab a cutting board, sharpen my knife, and get to work. In my toolkit, I also take out disposable gloves, a bag for compost, my mandoline slicer, and a side towel for wiping my hands.
Wash hands.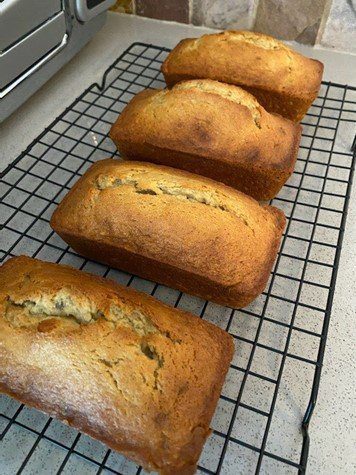 What is my menu for today? This is what we call a 3×4 service, three meals of four portions per meal, with an extra of the breakfast bread.
In my mind, I want to start with what's going to take the longest to prepare or needs the longest cooking time. Let's knock out the breakfast bread first because that will need an hour in the oven plus cooling time. Then I'll do the chicken, oh! Actually, I'll do the garlic spinach in the braiser and then cook the chicken in the same pan so I don't have to wash it so many times plus the pan will have some garlic oil flavors available to infuse into the chicken. The Milanese doesn't take long to cook however I must set up the 3-part breading ingredients. And as expensive as the veal is, I am going to handle it very carefully without rushing the process so that it turns out and tastes amazing. The scallops are a quick sear followed by sautéing the corn and bacon in the same pan after the scallops are done.
Okay, execution plan is in place. Mixing bowl, baking ingredients, shred the zucchini on my mandoline without shredding my fingers (mission critical), blot the zucchini with paper towels to absorb excess moisture, combine ingredients per recipe instructions. My loaf pan is sprayed and the oven is preheated to 350˚F. Ten minutes later, I have a quick bread going into the oven and 35 minutes after that, the house starts smelling like grandma's kitchen. I set the oven timer, have toothpicks ready to do the toothpick test, and have a trivet awaiting its duty to aid the bread in cooling without burning the countertop.
Wash hands.
While the bread bakes, I mince garlic, heat a braiser with a little oil, add the garlic to soften, and then add the spinach. Spinach cooks so quickly down to nothing so I don't have it on the heat very long. Gently flip with tongs to evenly heat and remove from the pan before it becomes all limp. I know the spinach will cook and flatten more once my client reheats the meal, and I want it to still look good. I have plating containers ready to go and move the lightly-cooked garlic spinach into a 9×13 glass casserole dish, placing it on one side so there is ample room for me to add the chicken when that is ready.
My client comes down the stairs for an office break. "Mmm, smells so good in here!" "Garlic and onions, does it every time!", I reply. We chit-chat for a bit, run through some feedback on last week's food, and exchange our thank-yous. It's so nice working for people who really appreciate what you do. Oh, and hello kitty! No, I'm sorry there aren't any floor-scores for you. I do keep a tidy kitchen.
Wash hands.
Moving on, I go about the preparations for the pizza chicken. This dish is BSCB (my code for boneless skinless chicken breast) trimmed of excess fat, cut lengthwise into cutlets, lightly seasoned with my go-to combo of salt, pepper, garlic and onion powders, and dried marjoram. Sear in the hot braiser, then reduce temp to simmer with a jar of good quality marinara (taking this shortcut to save my billable time on making a fresh marinara). I like enhancing marinara sauce with balsamic glaze stirred in to deepen the flavor and add a little creative nuance. Cover the pan with a lid (hot tomato sauce manages to pop all over everywhere otherwise) and keep tabs on the progress over the next 20 minutes.
Meanwhile, I find another large, deep covered pan to sauté the Veal Milanese. Flour, whisked eggs, seasoned breadcrumbs – the classic breading process. My pan is hot and I add some neutral, high-heat oil. In go the breaded cutlets to brown for a few minutes on each side. Once I've achieved the look I want on the cutlets, I transfer them to a cutting board lined with paper towels to absorb the excess oil. There's still a hint of pink visible in the meat, but I don't mind that since I know my client is going to microwave this meal and I don't want the meat overcooked. It is a safe decision.
Beep beep beep! The oven timer goes off and my banana zucchini bread is ready! Let's get that out to cool in the pan for about 10 minutes, and then take out of the pan to continue cooling.
After the veal is done, I do a quick wash of that pan so that it is ready for the braised veggies. More handwashing. Chop the broccoli, cauliflower, and tomatoes into bite-sized chunks. I heat my pan with some avocado oil, add the broc and cauli, and cook until there's some browning on their sides. Then I add some chicken broth and a splash of white wine, garlic, onion, tomatoes, and a lid to the pan to get the braise going. After about 5 minutes, my veggies are nice and al dente. I remove the lid, increase the heat, and reduce the braising liquid to infuse more flavors.
Plating Time
From a pull-out cabinet drawer, I get two more 9×13 glass casseroles with their lids. Today's client gets family-style meals instead of individual portions. The dish with the wilted spinach now gets the pizza chicken added. Scoop out the chicken from the cooking pan, ladle the sauce over it, and top with a thin slice of fresh mozzarella, sliced mini rounds of pepperoni, and basil chiffonade.
My braised veggies are now done to my liking. I take a quick taste of a small piece of cauli to check for seasoning and tenderness. Nailed it! The veggies go into one of the casserole dishes. Hmm, how do I want to plate this so it looks nice? Let's put the veal cutlets in the center with veggies on the sides. Add de-seeded lemon wedges on top of the veal, a little sprinkle of chopped parsley, and set aside to cool.
Dirty dishes go in the sink. I'm going to take the scallops out of the fridge, pat them dry with a paper towel, and S&P (salt and pepper) them to draw out some additional moisture. While they await their glory, I wash dishes in between and set to dry while I continue the remaining steps of my cooking. It's all a dance of time and motion management.
Wash hands.
Time for scallops, one of my faves! I want to get a beautiful sear on them creating a golden, lightly brown crust without overcooking them. My choice for scallops is always the large sea scallops versus the little bay scallops (however, those are best for Coquilles St. Jacques IMO). If you can find dry scallops, even better. The "dry" kind have less to no moisture added to them so you get a much more concentrated flavor of actual scallops. To get my sear just right, I take out a clean dry skillet and crank the heat up to medium-high. Add a splash of oil and swirl the pan to coat. To make sure my pan is hot enough, I flick a drop of water in it. I want the water to instantly sizzle and evaporate.
Go time. I gently place each scallop in the pan, leaving enough room between each one to breathe a little bit and not overcrowd the others. I know the searing is done when I shake the pan and the scallops move freely on their own. If they're still stuck to the pan, they're not ready. This only take a couple minutes, so I don't want to get distracted with another task at the moment.
Small tongs are in the drawer to my right. I remove the scallops to a plate to cool down before the final plating. I use a splash of white wine to deglaze the hot pan, then turn off the heat while I cut some strips of smoky peppered bacon. Stove heat back on to medium and in goes the bacon. Give it a few minutes to cook and get not-too-crispy. Then I add into the pan some corn, stir everything to blend the flavors, turn off the heat, and set the pan to another burner to begin cooling.
Next, I need to make chimichurri. I brought my small bullet blender from home because it works so well for sauces and dressings. Chimichurri is super easy, super flavorful, and adds an herbal brightness to any dish. Free-pour some olive oil, red wine vinegar, red pepper flakes, S&P, a couple garlic cloves, and a healthy handful of fresh cilantro including the stems. Bizz, bizz, bizz. Taste. This client can handle some heat so I want more pepper flakes to kick this up another notch. Did the emulsion come together? Let's do a little more vinegar as well.
The clock is ticking and I'm getting close to needing to wrap up. I fill the final casserole dish with the corn and bacon mix, nestle the seared scallops on top of that, and then top each scallop with a dollop of chimichurri. A little extra sprinkle of chopped cilantro and some lime wedges as well for additional garnish.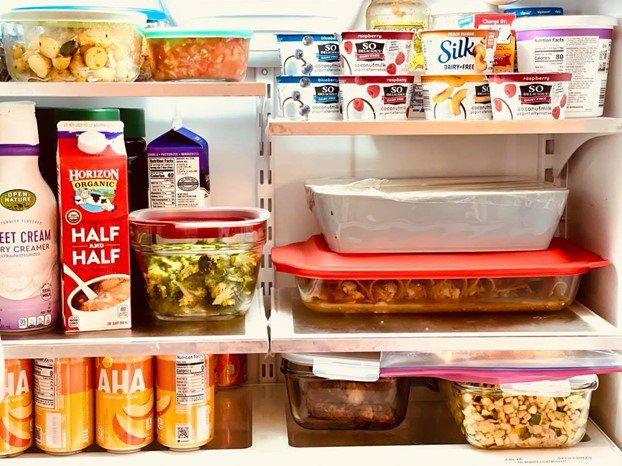 I dry off the previously-washed dishes, put those away, and wash the last round of dishes. While those dry, I wrap up the banana bread, lid the casserole dishes, and work my Tetris magic to get the prepared meals into the fridge. Dry more dishes, put away pans, skillets, bowls, utensils… I'm a fanatic about clean kitchens so I wipe down all the counters, handles, and the fronts of the appliances. Gas ranges are great until you have to clean them. Since the range covers are still hot, I get a potholder in my left hand to lift them up while I wipe the drip pans underneath and around each burner. Visual spot check on everything. Where's the broom? I check the pantry and then the hall closet. There we go. After sweeping the area, it's time to take out the trash, recycle, and compost.
Wash hands. I take a quick scan of the fridge, freezer, and pantry to note in my notebook ingredients available that I can work into next week's menu. Pack my tools back into my toolkit and get out a menu card. Write today's date and the meals I've prepared. I list the menu descriptions in the order that I recommend the client enjoy the meals to ensure their maximum freshness and flavor. Scallops, veal, pizza chicken. I leave the menu card on the counter, gather my stuff, and head out. This client's door code is ****.
Once in my car, I take a deep breath. Another successful day. I'm happy with how everything turned out and there were not any errors or setbacks (thank goodness). I've had my share of those over the years.
She lives to cook another day
3:00-3:30pm I check my phone for the travel time and hit the road for home. Text BF that I'm en route and turn on some tunes for a mental unwind. Except now my brain turns to thinking about tomorrow's client and their menu details. Asian Smoked Salmon Cakes with Pan-Fried Cabbage. Chicken and Andouille Gumbo. Moroccan Beef Tagine. Mmm…
3:30-4:30pm Ahh, so good to be home. I unpack my supplies for the day, throw my dirty kitchen towels in the washer, and seek out BF and dog for hugs and kisses. I run through emails and address the urgent ones. The rest can wait until tomorrow. Glass of wine in hand, it's time to decompress. Luckily, it's not my night for cooking my own dinner so I chillax on the couch and catch up on some social media.
4:30pm- The rest of the evening is dedicated to dinner, taking care of odds and ends around the house, family time, Jeopardy, bingeing on The Crown, and then bedtime.
And there you have it! A whirlwind day in the life of a personal chef. This story reflects a combination of scenarios from multiple clients, and the photos were from services by multiple members of our chef team. The attention to detail and careful planning, preparation, and cleanup are what you can expect when you hire one of our chefs for weekday dinners or your next at-home special event.