We recognize Mental Health Awareness Month in May which is a meaningful opportunity for us to share five simple ways to foster well-being in your kitchen. How and what we eat is an important part of our mental health since food can be an emotionally-driven choice. We encourage you to enjoy your kitchen space as much as possible in support of your well-being.
First off, let's detail the difference between well-being and wellness.
Oxford defines Well-being as "the state of being comfortable, healthy, or happy." By comparison, Wellness is "the state of being in good health, especially as an actively pursued goal."
At Honest to Goodness, we chose Well-being as one of our five core values since it encompasses a greater holistic approach to how we live our lives. Being in good health is important. We also embrace happiness, comfort, and peace of mind for our team, our clients, and our community.
Well-being and wellness can represent different things to different people. You don't need to go all-out and give yourself a wellness kitchen to have a noticeable impact on your mental and physical well-being in your kitchen.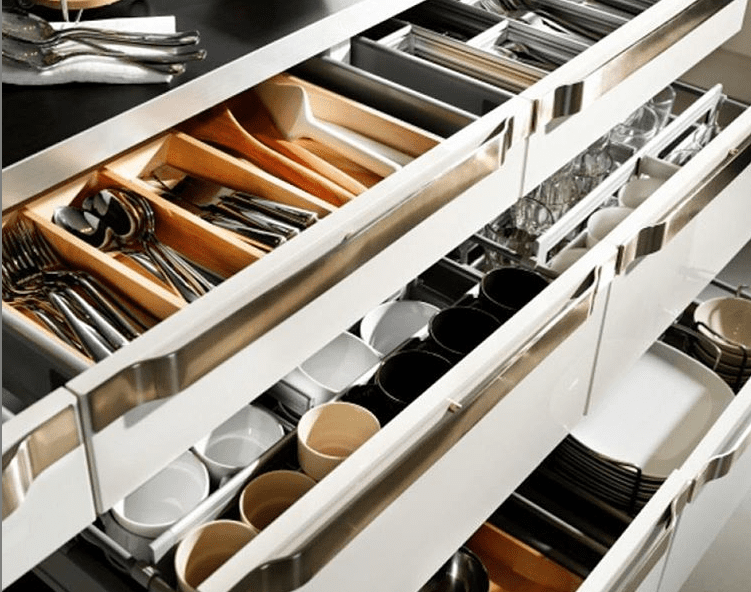 "A place for everything and everything in its place." Reduce your mental load by rethinking where you store things around the kitchen and why. Keeping your most often washed dishes closest to the dishwasher, for example, saves you time and energy as you're cleaning and putting clean dishes away. The same goes for your pantry and fridge – keep high-rotation items within easy reach, and store less often used items up high, down low, and at the back.
When was the last time you used your slow cooker? Or your juicer? Getting less-often-used appliances off the counter and into your pantry or cupboards is a simple fix that will have a big impact on your counter space. Clear horizontal space makes any room feel cleaner and less cluttered, even when it's not! Another quick thing to declutter that has a big visual impact is your fridge door (how many outdated takeout menus, travel magnets, and save-the-date cards do you have stuck up there?) For more clutter-busting ideas, check out this great list from Clean & Scentsible.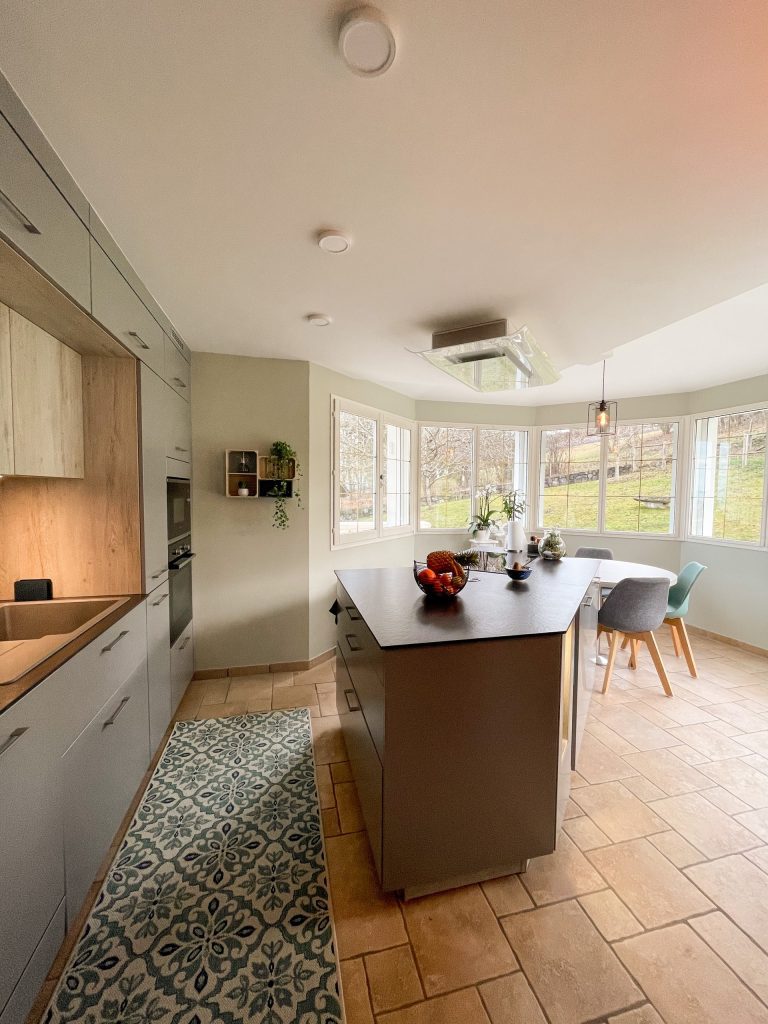 This tip ties in with our first tip about functionality. If you have the space to do so, designate different zones in your kitchen for meal prep, cooking, and eating. This creates flow and helps everyone in the family stay involved yet out of each other's way. It also makes maintaining a clean space easier too! As you prepare meals each day, take a cue from the culinary phrase "mise en place", aka gathering and staging all of your tools and ingredients ahead of time. Doing so makes meal prep and clean up easier and more enjoyable.
Since the beginning of the Covid pandemic, houseplants have been trending bigtime! Making your kitchen a mini garden with low-maintenance house plants will boost your mood, bring nature indoors, and cleanse the air. Your culinary efforts will have better results as well if you grow fresh herbs in a compact AeroGarden or even with a DIY mason jar herb garden!
In a less literal sense, you can also go green in the kitchen by getting in the habit of recycling and composting. One fun way to take your composting to the next level is with a worm bin, which will turn your kitchen scraps into fuel for your garden!
If you've ever been to a house party, you know that 9 times out of 10, everyone ends up in the kitchen. Whether or not you're entertaining, your kitchen is a focal point of household activity every day. Keep social activity in mind as you rethink your kitchen design, layout, and organization. Decorative elements such as a family message board, a cozy seating area, or converting a closet into a coffee bar are great conversation pieces to express your personality.
However you decide to boost your well-being in the kitchen, we hope you can make it a fun, relaxing, healthy, and inspiring environment for yourself and your family. If you need more input organizing your kitchen, we'd be happy to help! Our team members are experts in making your space efficient and resourceful with what you have.