During back-to-school season you'll come across plenty of blog articles and YouTube or TikTok videos on how to pack the perfect lunch for budding scholars. But what about the grownups? Whether or not you have kids, this is the perfect time of year to rethink your usual lunch and snack routine. Think back to your own school days – what would you be excited to find in your lunch box or paper bag? We've taken some inspiration from the kids to bring you craveable and clever back-to-school meal prep ideas to make your mid-day meals fun.
There was always something special about pre-prepped meat, cheese, and crackers in that little plastic tray. Lunchables were the hottest option for school-aged kids starting in the late '80s. Parents could grab a quick, convenient, prepped lunch container from the grocery store to send with their kids to school. Now as an adult, you can enjoy some nostalgia from your school days with this craveable creativity in your own kitchen!
The key is to prepare the various elements in snackable sizes and portion them out perfectly, usually into divided containers. Have fun with a variety of shapes and colors and don't forget the dip! If you're on a specific diet, like Keto, this type of lunch meal prep is perfect for helping you stick to your diet plan. You can also give yourself something to keep you going on long days on the job by adding a chocolate with a sweet message, a fortune cookie, or a napkin with a love note on it. Here are some of Chef Tristina's recent Lunchable-inspired creations for her clients:
The hottest thing on the menu for the younger set isn't the food itself — it's the containers your food comes in! Bento boxes of all types are all the rage. They can vary widely in price depending on the size, number of compartments, and materials you need. Here are a few of the most popular options to give you an idea: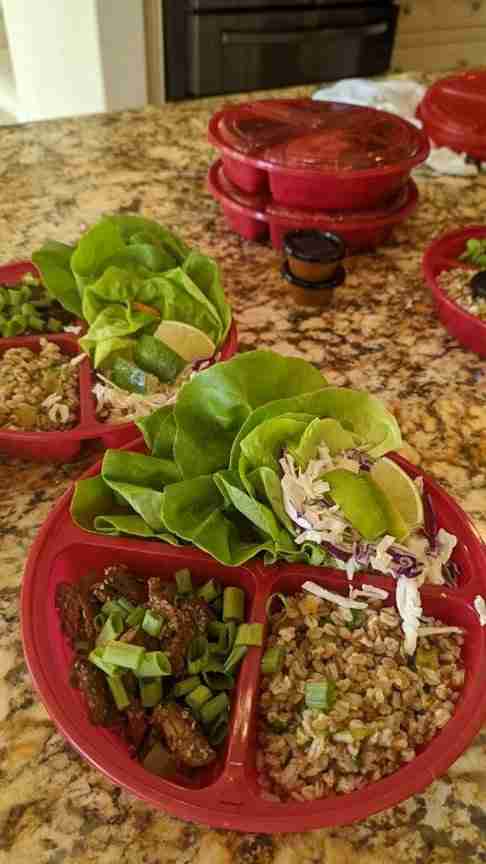 Bentgo has both the highest number of reviews and highest rating of all the bento boxes on Amazon. The kids' version includes more compartments, but they are small, while several highly rated versions for adults include larger compartments and a stackable option with a built-in utensil set. If you tend to pack dips and runny foods, these boxes are designed to prevent leaks.
If you're looking for something lighter and simpler, these 3-compartment plastic meal prep containers will give you the best bang for your buck. However, although they are microwave and dishwasher safe, they are less durable in the long run.
PlanetBox offers a variety of metal lunchbox options depending on your desired configuration. They also have fun accessories like containers designed to fit inside their boxes and magnets to give the lids extra pizzazz.
Whether you're still working from home or heading into an office, it can be tempting to reach for unhealthy snacks like potato chips throughout the workday especially if you have a hectic schedule. Keeping fun, fresh, healthy snacks on hand instead of empty calories can make a major difference for your diet. If sweets are your style, stock up on fresh fruit. If you're a chocoholic, keep it dark and pair it with mixed nuts. And if you crave the salty crunch of chips and pretzels, prep some veggies and dip instead. Not only are these healthy alternatives better for your waistline and blood pressure, they will provide the protein and fiber nutrition that fills you up quicker and prevents carb crashes.
Howsoever your midday meal comes together, we want you to have some fun with it! Doing your own back-to-school meal prep for adults is your key to a healthy lifestyle for lunches and snacks to carry you through your work day. If you are stuck in lunch limbo and not sure what to pack or don't have enough time for lunch meal prep, our creative personal chefs are always happy to help!
For more posts like this to inspire your menu planning and meal prep, check out: