This guest blog is brought to us by our resident pastry pro, Chef Ruben Piña, Jr!
During my time in culinary school, I wanted to be a well-rounded Chef. I realized the importance of desserts, not intending to enjoy it as much as I do.  Don't get me wrong, I still love cooking. But the challenges and precision that come with baking and pastries are what got me hooked. While there are many challenges in baking, there are also lots of fun things to do, especially around the holidays. November is for pies, tarts and crisps, then roll out the dough for Christmas cookies. These are a few of my must-haves during the holidays:
Old Fashioned Apple Pie
Pecan Tart
Pear, Apple and Cranberry Crisp
Thumbprint Cookie Dough
Linzer Dough
Vanilla Cookie Dough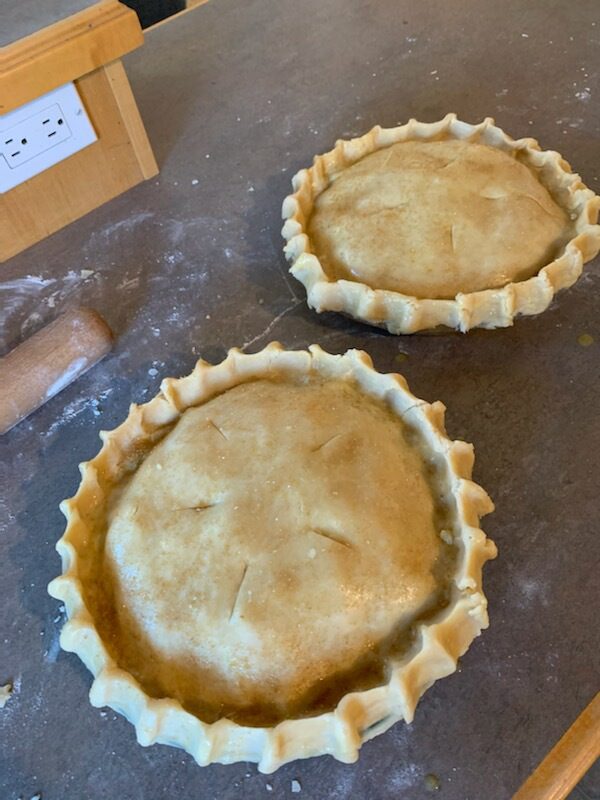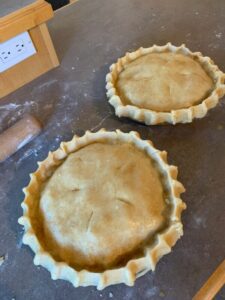 Yields
1 9″ pie for 8-10 servings
Total Time
1 hour 30 minutes
Ingredients:
1 pastry recipe for a 9-inch double crust pie
½ cup unsalted butter
3 tablespoons all-purpose flour
¼ cup water
½ cup white sugar
½ cup packed brown sugar
8 Granny Smith apples – peeled, cored and sliced
Instructions:
Preheat oven to 425 degrees F (220 degrees C).
Melt the butter in a saucepan. Stir in flour to form a paste. Add water, white sugar and brown sugar, and bring to a boil. Reduce temperature and let simmer.
Place the bottom crust in your pan. Fill with apples, mounded slightly. Cover with a lattice work crust. Gently pour the sugar and butter liquid over the crust. Pour slowly so that it does not run off.
Bake 15 minutes in the preheated oven.
Reduce the temperature to 350 degrees F (175 degrees C). Continue baking for 35 to 45 minutes, until apples are soft.
Chocolate Whiskey Pecan Tart
Yields
1 9″ pie for 8-10 servings
Total Time
2 hours 55 minutes
Ingredients:
1 1/4 cups pecan pieces
1/2 cup semisweet chocolate chips
1/2 cup sugar
6 tablespoons unsalted butter (melted)
2 tablespoons Tennessee Whiskey
1 teaspoon vanilla extract
3 eggs
3/4 cup light corn syrup
Instructions:
Mix chocolate chips and pecan pieces in bowl together
Mix sugar, butter together. Add whiskey, vanilla. Mix. Add eggs one at a time.
Add corn syrup.
Line tart shell with chocolate and pecans. Pour mixture into pan.
Bake at 350 for 45 to 55 minutes. Pie will bubble. Cool completely before serving.
Ruben's Pear, Apple, and Cranberry Crisp
Total Time
1 hour 20 minutes
Ingredients:
2 pounds ripe Bosc pears (4 pears)
2 pounds firm Macoun apples (6 apples)
3/4 cup dried cranberries
1 teaspoon grated orange zest
1 teaspoon grated lemon zest
2 tablespoons freshly squeezed orange juice
2 tablespoons freshly squeezed lemon juice
1/2 cup granulated sugar
1/4 cup all-purpose flour
1 teaspoon ground cinnamon
1/2 teaspoon ground nutmeg
1 1/2 cups all-purpose flour
3/4 cup granulated sugar
3/4 cup light brown sugar, lightly packed
1/2 teaspoon kosher salt
1 cup old-fashioned oatmeal
1/2 pound (2 sticks) cold unsalted butter, diced
Instructions:
Preheat the oven to 350 degrees F.
Peel and core the pears and apples and cut them into large chunks. Place the fruit in a large bowl and toss with the cranberries, zests, juices, granulated sugar, flour, cinnamon, and nutmeg. Pour into a greased 9x12x2-inch baking dish.
Combine the flour, sugars, salt, oatmeal, and cold butter in the bowl of an electric mixer fitted with a paddle attachment. Mix on low speed for 1 to 2 minutes, or until the mixture is in large crumbles. Sprinkle evenly over the fruit, covering the fruit completely.
Place the baking dish on a parchment-lined sheet pan and bake for 50 minutes to 1 hour, until the top is brown and the fruit is bubbly.
Serve warm as is or a la mode with your favorite vanilla ice cream.
Ruben's Thumbprint Cookies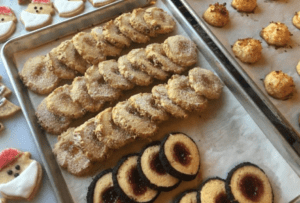 20 oz butter
8 oz sugar
1 oz vanilla
2 oz egg yolks
2 oz cream
4 oz flour
.25 oz baking powder
1 pinch salt
1 egg for egg wash
your choice of crusting for cookies i.e. crushed Oreos or crushed nuts
your choice of fruit jam
Instructions:
In a medium bowl, cream butter and sugar.
In a separate bowl, mix together the vanilla, egg yolks and cream.
Add liquids to butter sugar mixture slowly to incorporate.
After liquids are mixed, add dry ingredients and mix till incorporated completely.
Shape:
Divide dough into two portions.
Roll into logs, wrap with plastic wrap, and refrigerate.
Finishing:
For finishing, you will need one egg wash, your choice of crusting, and your preferred flavor of jam.
Fill piping bag with jam.
Pour egg wash into pan, roll log until completely covered, then roll in Oreo (or preferred flavor) until covered.
Slice log into 1/3-1/2″ thick cookies and place on baking pan. Press an indention in center of cookie and squeeze jam into center.
Bake at 325 degrees until golden brown (15-20 minutes).
Remove from oven to cool on a cooling rack for at least 10 minutes.
12 oz butter
10.5 oz sugar
2.5 oz yolks
1 lb flour
5.5 oz pecans, finely ground
5.5 oz hazelnuts, finely ground
2 oz cocoa powder
.5 tsp ground cloves
1 each lemon zest
powdered sugar for dusting
Instructions:
In a medium bowl, cream butter and sugar. Add yolk slowly until incorporated.
In a separate bowl, add all dry ingredients and whisk until incorporated.
Add dry ingredients to creamed butter and sugar. Mix until incorporated.
Divide dough into 2 round discs, wrap in plastic wrap, and chill in refrigerator for 30 minutes.
Roll the Dough: 
Preheat the oven to 350°F.
On a lightly floured surface, roll one disc of dough out about 1/4″-thick. Using a 2 1/2″ round cookie cutter, cut out cookies. 
Transfer rounds to a parchment-lined baking sheet. 
Gather the scrap dough, roll, and repeat. 
Cut rounds from the remaining dough, use your smallest cookie cutter or the end of a round piping tip to make a peekaboo cutout in the center of each and transfer rounds to a parchment-lined baking sheet.
To Bake: 
Bake all of the cookies for 8 to 10 minutes, or until the edges are just beginning to turn brown. 
Let them cool for 5 minutes on the pan, then transfer to a rack to cool completely.
To Assemble: 
Place the cookies with the holes in them on a cookie sheet and sift confectioners' sugar over the top. 
Turn the remaining cookies flat side up and spoon 1/2 teaspoon of jam into the center, spreading it slightly. 
Top with the sugar-dusted cookies to make a sandwich.
Ruben's Vanilla Short Cookies
1 lb butter
7 oz sugar
1 oz vanilla
4 oz all-purpose flour
1 pinch salt
Instructions:
In a medium bowl, cream butter, sugar, and vanilla together.
Add flour and salt and mix until incorporated. 
Refrigerate dough for 30 minutes.
Preheat oven to 350 degrees  F
On a floured surface, roll dough to 1/3″ thick and cut with cookie cutter shapes of your choosing.
Bake for 9-14 minutes rotating half way through.
Decorate with frosting/sprinkles of your choice.
For more posts like this to inspire your holidays, check out: