Fall and winter holidays are a time of joy, merriment, and gathering with those we hold near and dear. But what if your nearest and dearest aren't bound by blood? Enter Friendsgiving, the delightful celebration where chosen family takes center stage. In this collection of camaraderie, we're here to explore how Friendsgiving and winter holidays with your chosen family can be a melting pot of shared dishes, diverse traditions, and heartwarming moments.
Chosen Family: The True Holiday Treasure
When the air turns crisp and the scent of holiday spices fills the kitchen, it's time to gather with those you love. These are the people who've shared laughter, supported you through thick and thin, and turned ordinary moments into extraordinary memories. For some, the Friendsgiving tradition arises out of proximity, as blood relatives are located too far away to celebrate Thanksgiving together. For others, it may be because they are closer with friends than relatives. Whatever the motivation, celebrating a holiday with friends can cement their status as your chosen family.
Potluck Palooza: A Global Gastronomic Gala
Friendsgiving is the perfect occasion to turn your feast into a potluck palooza. Each friend brings a dish that represents their cultural background or family tradition. Picture a potluck table adorned with dishes from various corners of the world – a fusion of flavors that mirrors the diverse backgrounds of your chosen family. Whether it's pierogies, tamales, or a tagine, Friendsgiving can become a global gastronomic gala.
Sharing the Culinary Love
Friendsgiving isn't just about stuffing yourself with turkey and mashed potatoes (though those classics certainly have their place). It's about sharing the culinary love and opening your taste buds to a world of flavors. Swap recipes and cooking tips, and don't be afraid to try your hand at your friend's grandma's famous recipe. It's a delicious exchange that bridges culinary traditions and brings a unique touch to your winter feast.
Toasts and Traditions
As the clinking of glasses resonates through the room, consider incorporating a toast to share your gratitude for the chosen family gathered around you. Each friend can share a tradition from their own household – whether it's a heartfelt prayer, a customary toast, or a unique holiday game that has been passed down through the generations.
DIY Decorations: Deck the Halls with Love
Friendsgiving decorations can be as unique as your chosen family. Consider making DIY decorations that represent each friend's background. Whether it's paper cranes, dreidels, or hand-painted ornaments, let the decorations tell the story of your diverse and cherished friendships.
Embracing the Hygge Vibe
As winter holidays approach, embrace the hygge vibe with cozy blankets, flickering candles, and warm beverages. Create a space that feels like a snug retreat from the cold, where your chosen family can relax and revel in each other's company.
Winter Wonderland Games
Friendsgiving and winter holidays are the perfect time to introduce some festive games. From board games to holiday-themed charades, these activities create lasting memories and add an extra layer of joy to your celebrations.
Secret Santa Surprises
Instead of stressing over finding the perfect gift for every friend, consider a gift exchange. It adds an element of surprise and anticipation, and it's a delightful way to show your chosen family that you know them well.
Gratitude Galore
Friendsgiving is the ideal time to express gratitude for the chosen family in your life. Consider creating a gratitude jar where everyone can write down what they're thankful for, creating a heartwarming keepsake to cherish for years to come.
Cheers to Friendship, Food, and Forever Memories
As you gather with your chosen family for Friendsgiving and winter holidays, remember to savor the moment. Raise a glass to friendship, food, and the creation of forever memories. These occasions are a testament to the beautiful tapestry woven by the bonds of chosen family – a tapestry that grows richer and more vibrant with each passing year.
So, let the festivities begin! Embrace the diversity of your chosen family, relish in the shared dishes and traditions, and create a winter holiday extravaganza that is uniquely yours. After all, the most magical celebrations are the ones where love and joy take center stage.
Want to spend more time with your chosen family and less time in the kitchen? Book an Honest to Goodness chef and we'll handle the food, drinks, and service for you!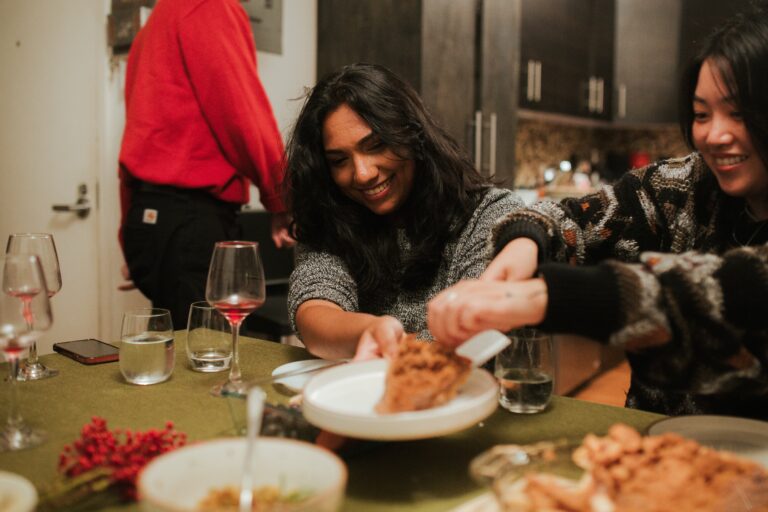 For more posts like this with seasonal and event inspiration, check out: