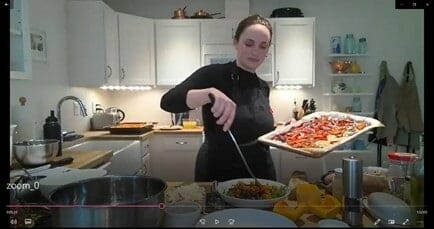 Individual & Virtual Cooking Classes
For those of you who want to learn how to cook, one of our personal chefs will meet with you one-on-one for hands-on cooking instruction either in your home or through a virtual cooking class. Learn simple techniques to prepare your favorite foods in healthy ways. We can teach you how to cook chicken, how to cook seafood, plant-based alternatives, Instant Pot recipes, what to make while stuck at home, and so much more!
In-Home Group Cooking Classes
We can't think of a more fun way to entertain at home than with an interactive cooking class! You provide the friends and beverages, and we will provide a skilled chef with a recipe box full of delicious ideas. If you don't want to get your hands dirty, that's okay. We will teach easy and useful tips and techniques while you observe and ask questions. You and your friends will learn about what kinds of ingredients to use. You will also receive handouts of the recipes so you can make at home afterward. All of our cooking classes and demos are customized to the type of experience you and your friends want to enjoy.
Corporate Cooking Demos
Does your company have a health and wellness program? Do you do lunch and learns? Our chef team loves to teach and is experienced in group demonstrations. Engage your employees during your lunch break or for a team-building experience that brings everyone together around food.
Sample Cooking Class Ideas
Weekday Dinner Prep

Instant Pot Recipes

Southeast Asian

Food & Wine Pairings

Gluten-Free Italian

Cooking for the Holidays

Healthy, On-the-Go Meal Prep

Cooking for Kids

Holiday Baking

South American Grilling

Mediterranean

Knife Skills

How to Cook Beef, Chicken, and Fish

Plant-Based Recipes

and more!
"With spending more of my time at home and attempting to cook for myself, I hired Honest to Goodness to provide a virtual cooking class on how to cook a few recipes I didn't know how to do. They were quick to respond to my request. The chef sent me recipes in advance, walked me through what I needed, stepped me through the recipe, and answered any questions I had. All around a great experience and service! I highly recommend!"
FREEBIE: 9-Minute Video for an Easy 30-Minute Meal