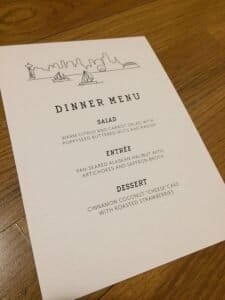 Covid-Safe Dinner Parties
Our Seattle private chefs are experts at home entertaining and in-home catering. We have decades of professional experience in planning events of all types. Are you hosting a birthday party, a girls' or guys' night, baby/bridal shower, intimate home wedding, retirement party, holiday gathering, housewarming, or even a celebration of life service?
We understand that it can be stressful for you to have family and friends over. Oftentimes, you don't get to spend as much quality time with them as you would like. Rest assured, we will take hours of work and stress off your plate.
We offer a complimentary consultation to understand your event vision and give you a quote. Then, your chef plans a personalized party menu, does the grocery shopping, and prepares your appetizers and dinner. Best of all, we leave your kitchen sparkling clean! Our chefs are also licensed in responsible alcohol service of specialty cocktails, wine pairings, or tastings.
Vacations & Retreats
Hiring a personal chef when you travel to Seattle or the Puget Sound area is not a treat just for the elite. In fact, hiring a party chef at your Airbnb or VRBO will enhance your stay by giving you more free time to explore the area.
Our chefs will plan and serve a uniquely Northwest or other style of food experience for you. We can stock your vacation home with any groceries you want, including local foods and drinks. If you are here for a large family gathering, book a chef to take care of everything from breakfast to dinner with snacks in between. You'll be so glad you did.
Retreat Chef Services
We also serve yoga retreats, spiritual retreats, corporate retreats, and any other multi-day event anywhere in the region. Let us know what you are planning, and we will design a proposal specific to your retreat needs and goals.
When you hire an party chef for a customized culinary experience instead of a traditional caterer, you will enjoy fresher food, better quality ingredients, and you can see where your food is made. Your home or vacation rental becomes your own private restaurant!
"We had a great night! The food was fantastic and Chef Mike and Chef Ari were a true joy. They were Covid-conscious and respectful, and also did a great job engaging with us and walking us through the courses. The meal turned out incredible!"