Picnics are a wonderful way to spend more time outdoors and enjoy the company of family and friends, as well as the warmer weather in Spring and Summer. From the cutlery to the cooking, a lot goes into picnic planning. We wanted to pass on a little knowledge to you in celebration of National Picnic Day – April 23rd! Here are our top tips to help you plan the perfect picnic any time of the year.
You don't need to go out and buy a $200 picnic hamper and matching dishware to host a beautiful picnic. (Although if you want to, go for it!) A tarp covered by a colorful quilt can do just fine for a picnic blanket along with some small throw pillows to doze off a food coma. In lieu of a traditional picnic basket, try an insulated cooler, a few Easter baskets or beach totes for carrying your goods!
Cleaning up after a picnic doesn't have to be a chore. You've got two options: reusable or disposable. Your usual locking containers are great for prepping and serving up the food. These days, there is a wide variety of eco-conscious disposable dishes and cutlery to choose from. If you prefer to go reusable and pack it out, one way to make cleanup and transportation easier is to nest it up! Bring serving utensils, cutlery, and dishware that can all fit inside the locking storage containers that you used for the food. 
Essential Picnic Supplies
In addition to your food, serving containers, cutlery, and drinkware, we recommend these odds and ends to carry with your portable feast:
wet wipes to clean your hands before and after eating
bug spray if needed in your region
sun screen
gel ice bricks or refrigerated packs to keep food cool
a roll of paper towels instead of individual napkins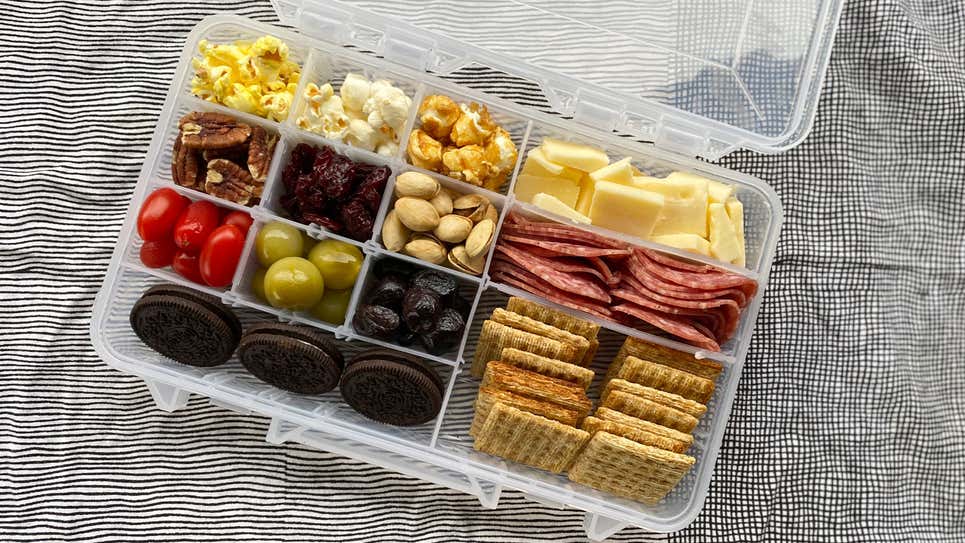 Since you'll be busy packing up and getting everything and everyone from home to your picnic destination, a simple menu is your best bet for a picnic. Make a few of your go-to dishes that don't require reheating or heavy refrigeration and accessorize with shelf-stable sides like your family's favorite chips and cookies. One trending picnic option is beautiful charcuterie boards with a variety of meats, cheeses, nuts, and fruit. Store the various components in smaller containers and then arrange them on a cutting board when you arrive at your picnic destination. Or you can use a divided storage container and call it a snackle box!
Do you and you family enjoy reading? Geocaching? Playing frisbee? Having an activity in mind when you set out on a picnic, or picnicking at a destination with a built-in activity like a local farm or walking trail will prevent any cries of "I'm bored!" Remember to pack a small Bluetooth-enabled device to stream your favorite fun music, just not too loudly. Planning an activity or two as part of your picnic outing will also ensure that your crew wants to make picnics a regular outing in your Spring and Summer schedule.
Dogs love nothing more than to enjoy the outdoors with their favorite humans! Packing food and water bowls plus their favorite treats and a couple of toys will ensure your fur baby has as much fun and care as everyone else. Using a tie-out stake like this to attach a leash or long lead also gives you a hands-free way to keep your companion nearby.
If you are inspired by this article and want to plan the perfect picnic for your family this year, we'd love to hear about it on social media! Find us on Facebook and Instagram and check out some of the picnics we've helped with in the past. And if you'd rather focus on the fun, we're always game to help you meal prep for your perfect picnic – contact us to book your own personal picnic chef.